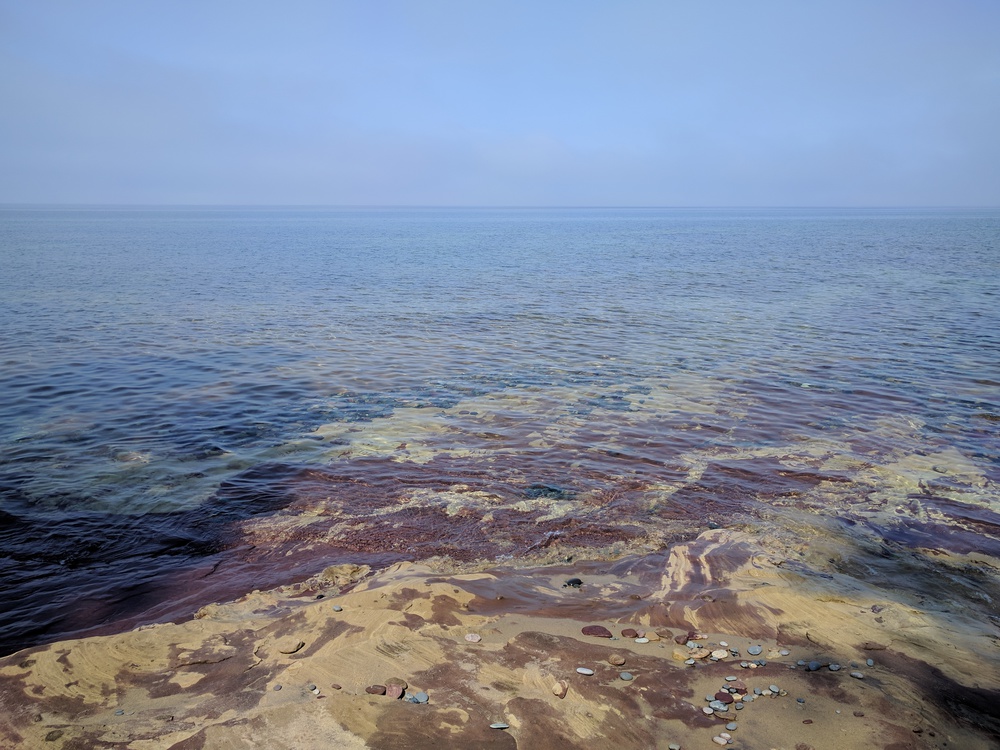 The Upper Peninsula
September 05, 2017
After leaving the St. Ives Inn mid-day, we drove north to Traverse City, which sits in the nook of Traverse Bay, fed from Lake Michigan. Traverse City was a surprisingly lively city (population 15,480) with lots of interesting old buildings, shops and restaurants.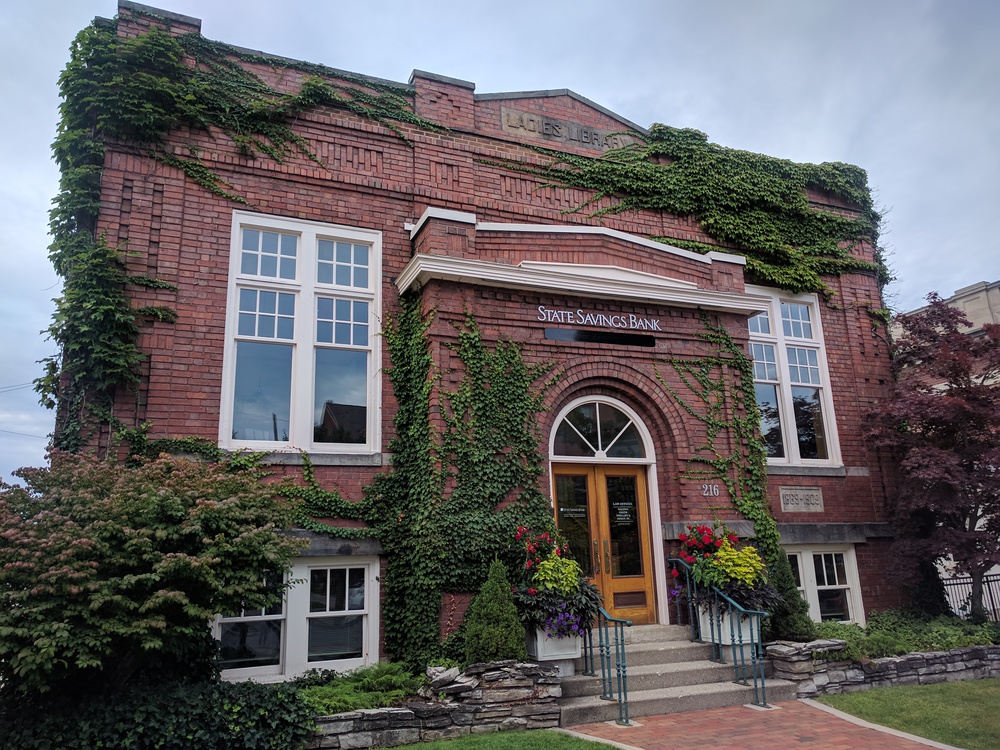 We visited a bookstore and explored a bit, later on seeing Wind River at the State Theater, a historic movie house that is really cool looking.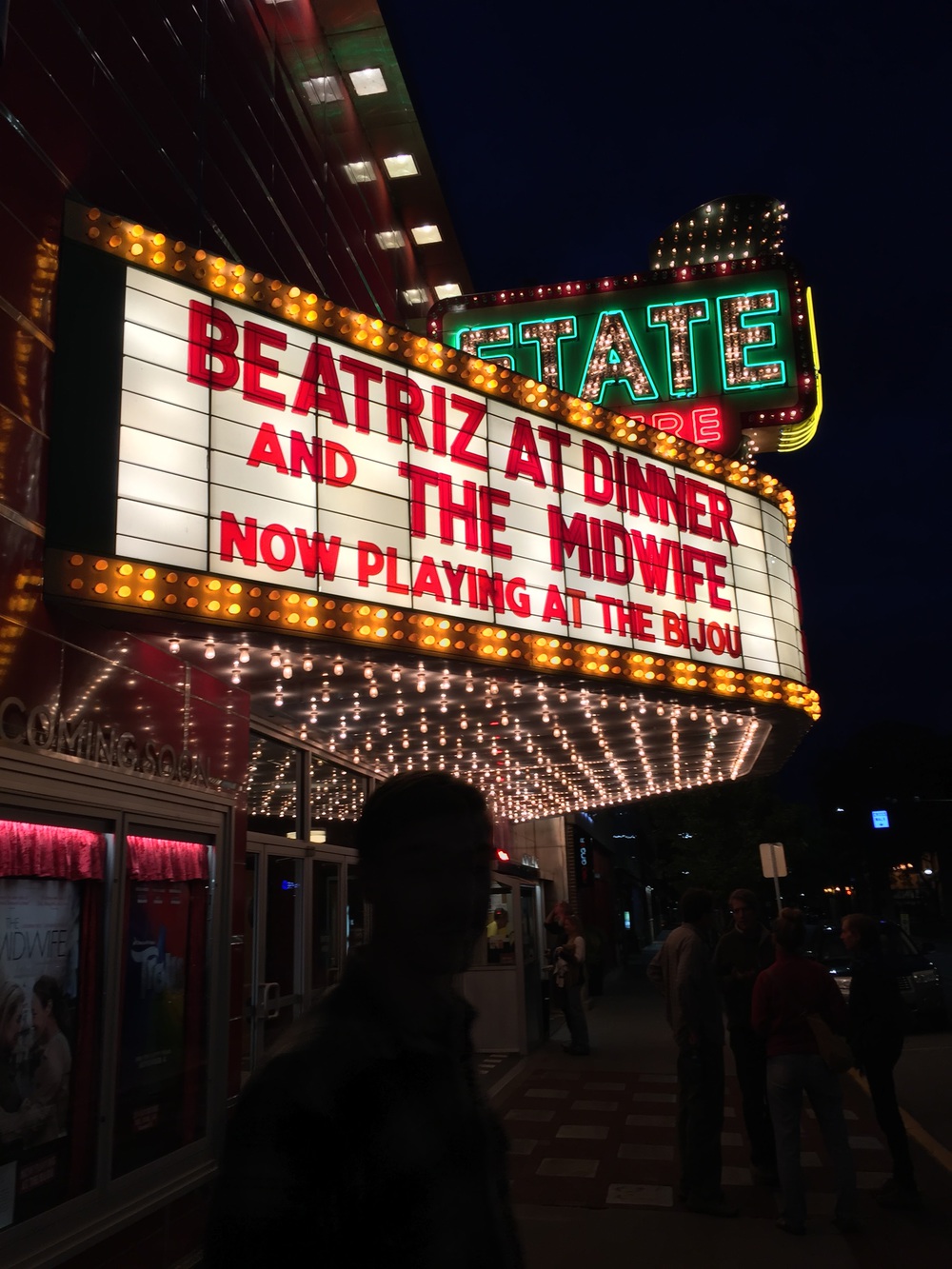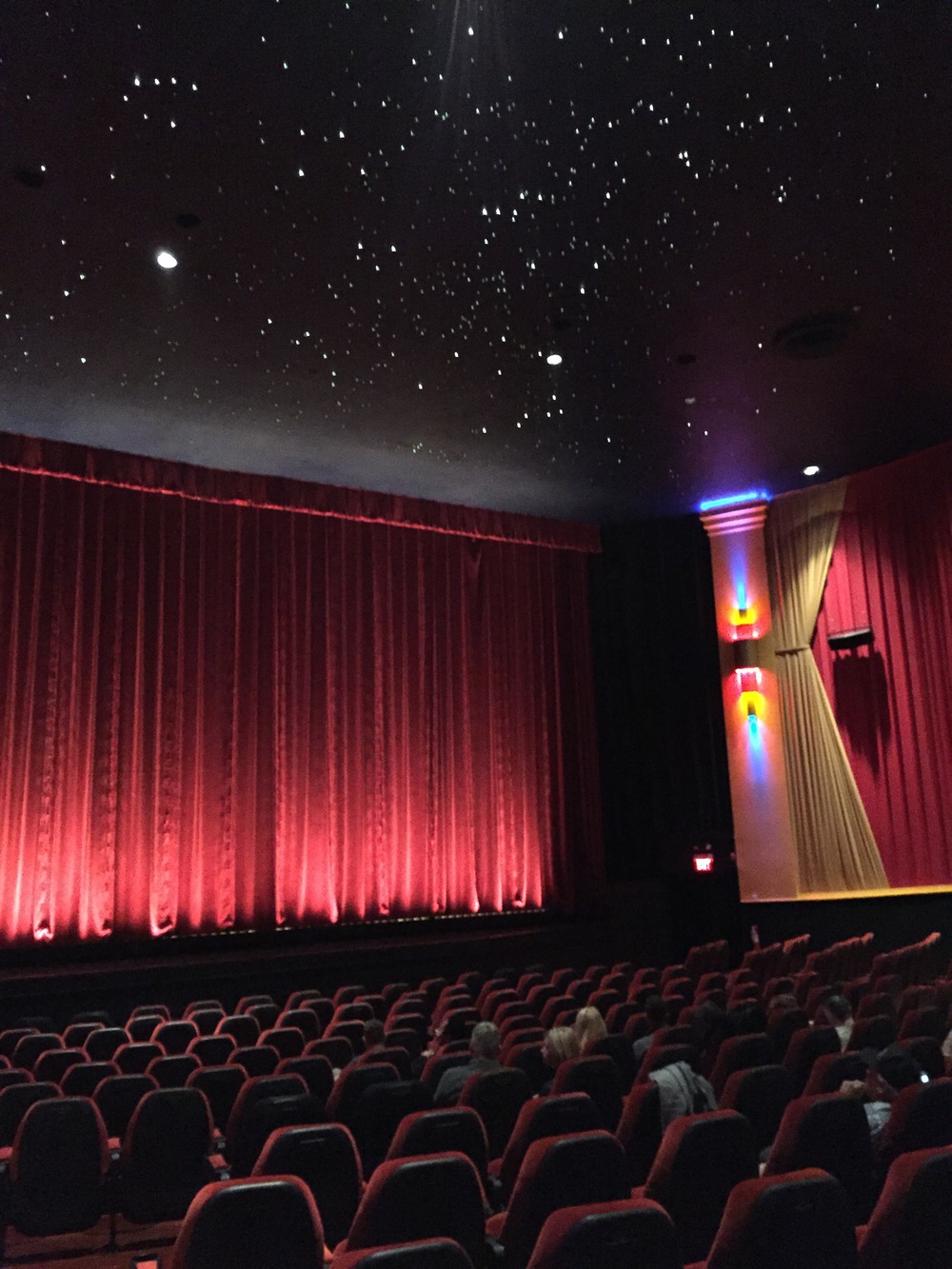 That night we slept in a casino parking lot outside of Traverse City. We always play a few slots when we stay at a casino (and get free coffee) but never win anything.
In the morning we continued north on our way to the Upper Peninsula, following the coast through Charlevoix and Petoskey, over the Mackinac Bridge ($10 toll!) and stopping for lunch in St. Ignace to sample a favorite UP food item, the pasty (rhymes with nasty not tasty), a meat/potato/carrot filled pie, like a hand held pot pie. Very good indeed.
Mackinac Bridge: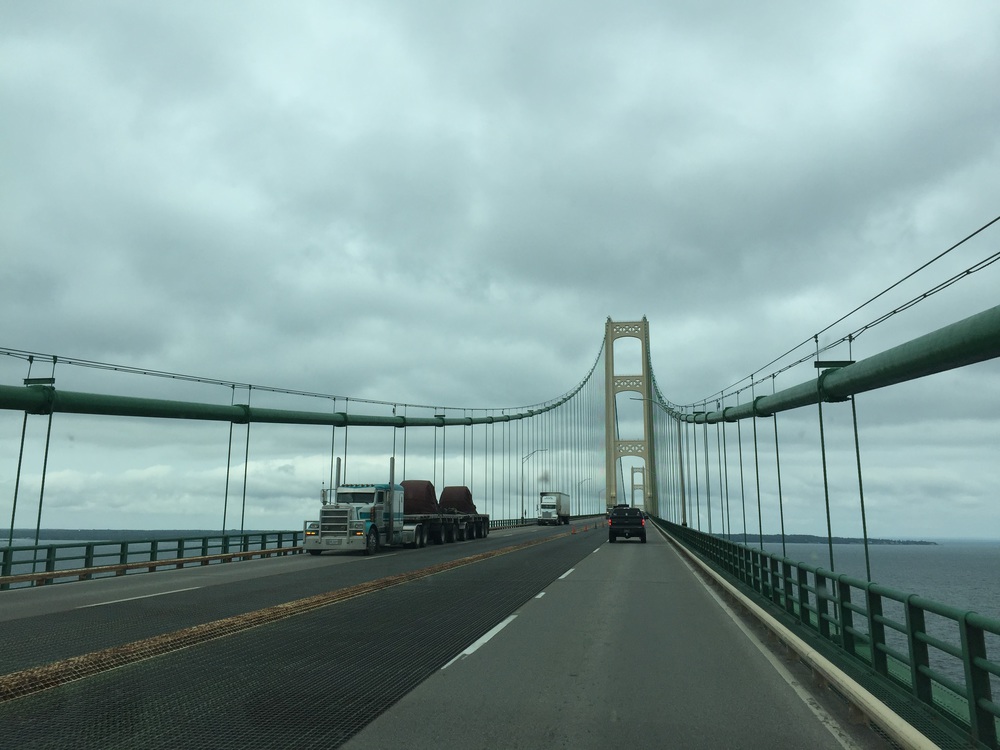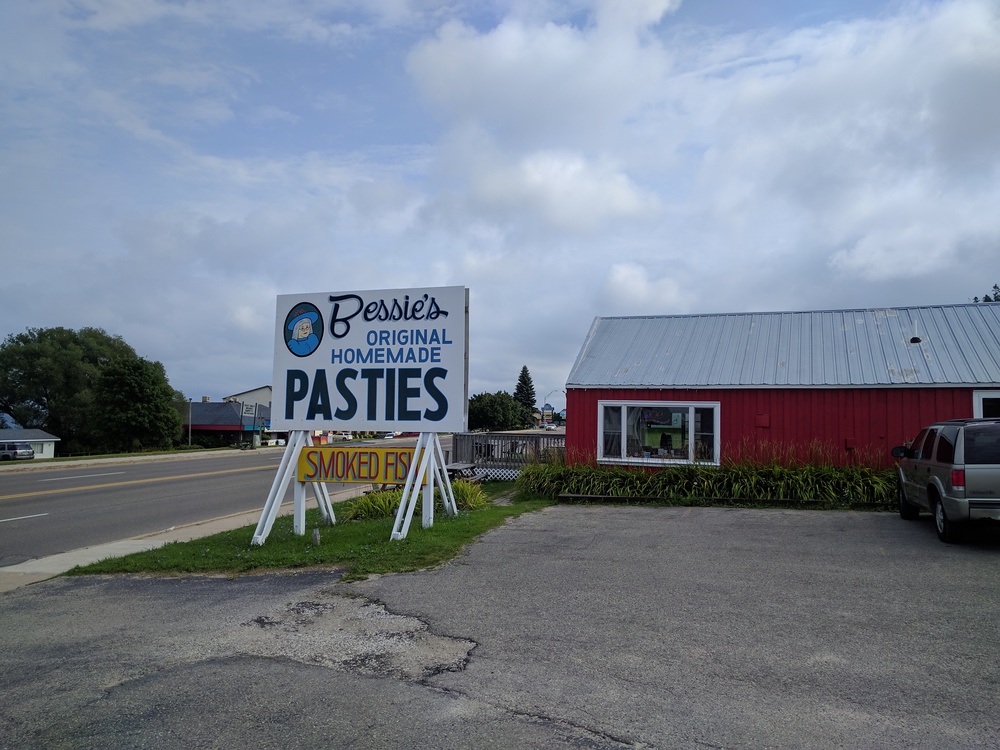 Friendly hound at Bessie's: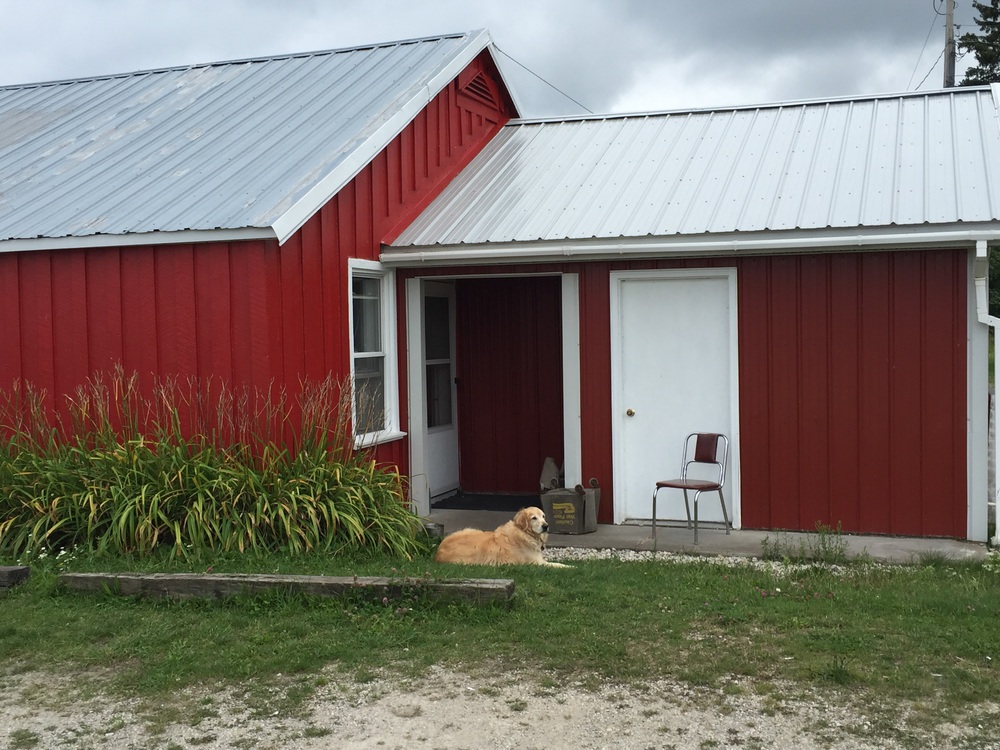 We made it up to the small town of Grand Marais, along Lake Superior, in the evening, finding a campsite at a county park. The campground was set right along the beach, endless Lake Superior stretching into the distance. We stayed there just that one night, on Tuesday morning continuing east into the Pictured Rocks National Lakeshore area to find a different campground. Only about 12 miles in we settled at the Hurricane River campground, a rustic (no water) campground but right next to the beach. I was very impressed with the clear water and abundance of interesting rocks and agates.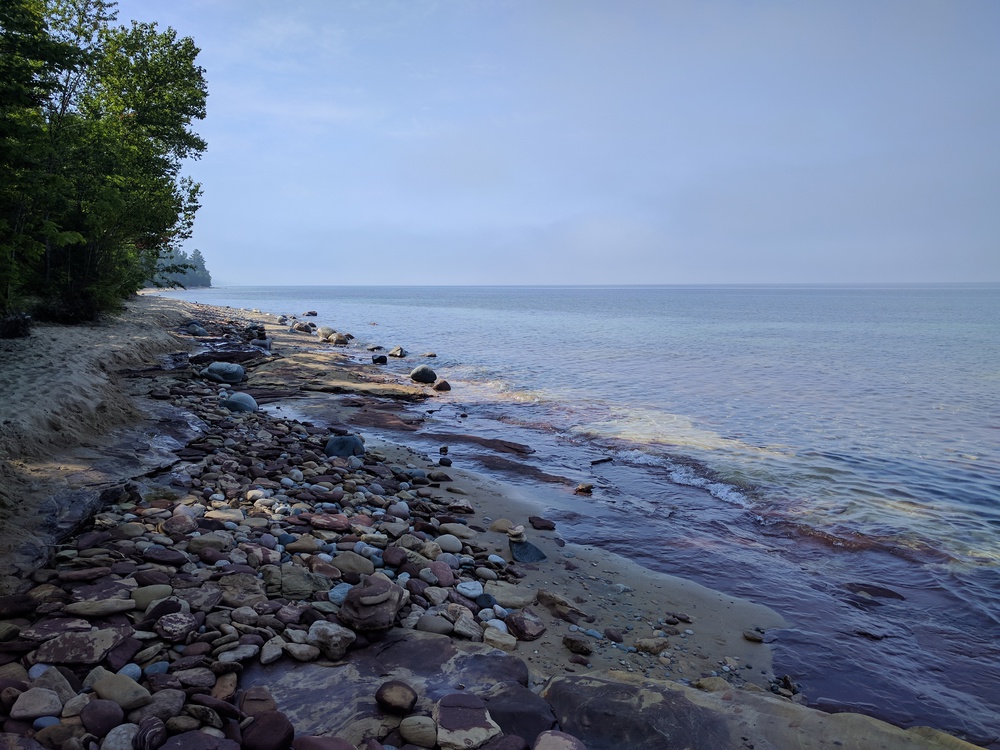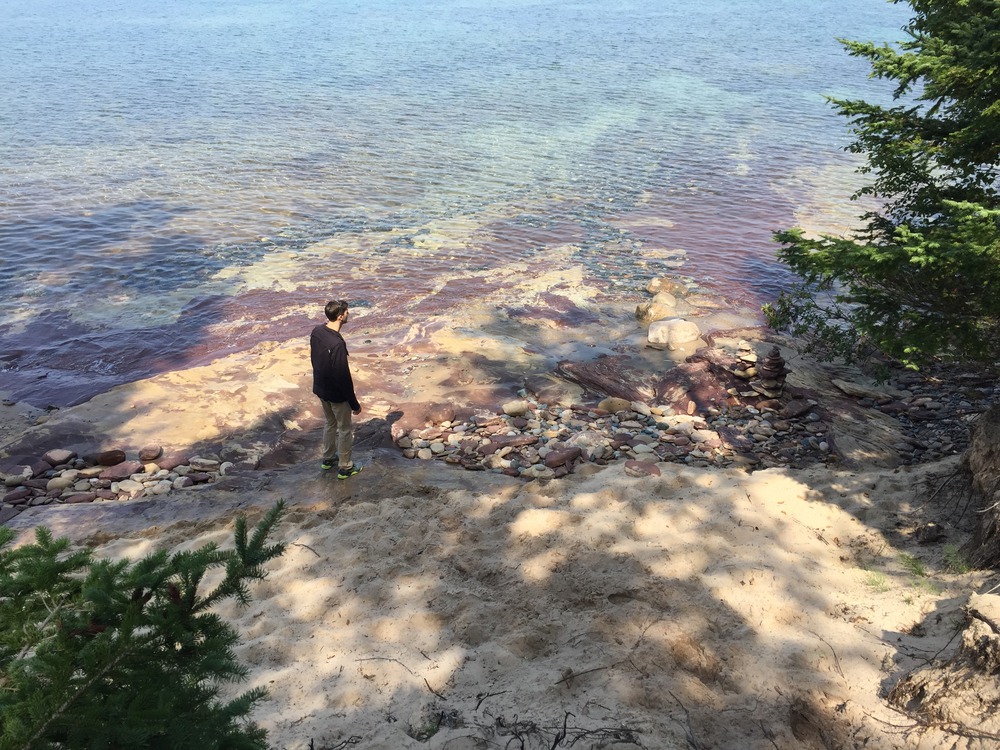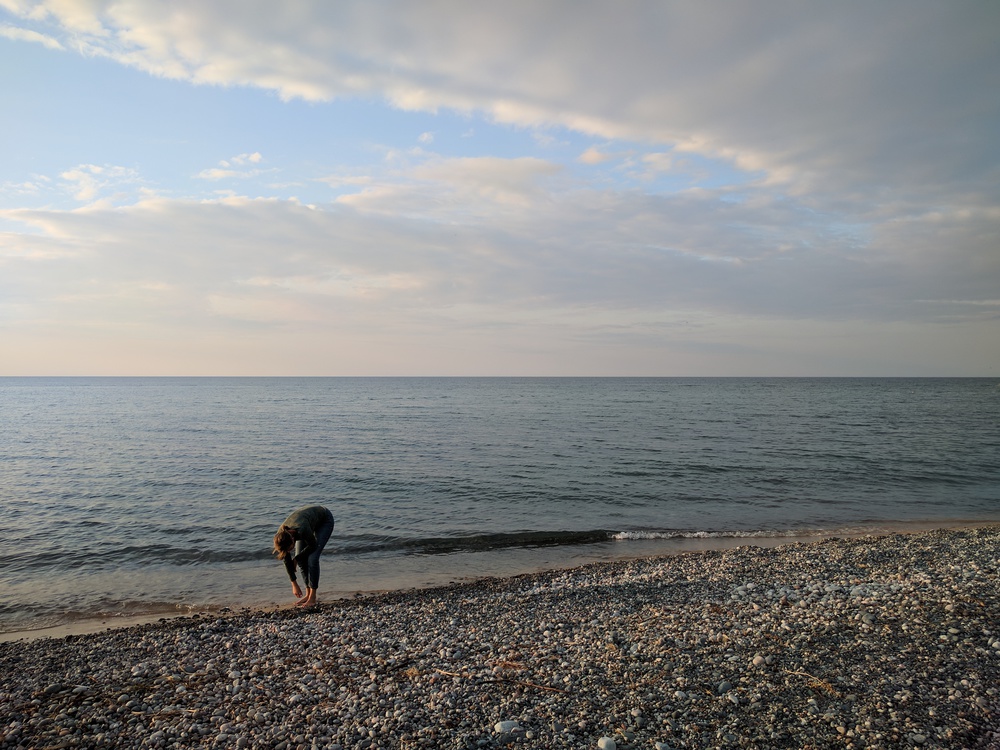 They actually "prohibit" you from collecting rocks here. That day we took a little hike to the nearby lighthouse, about a mile and a half down a flat trail, and continued a couple more miles taking in the views, various mushrooms and the misty day.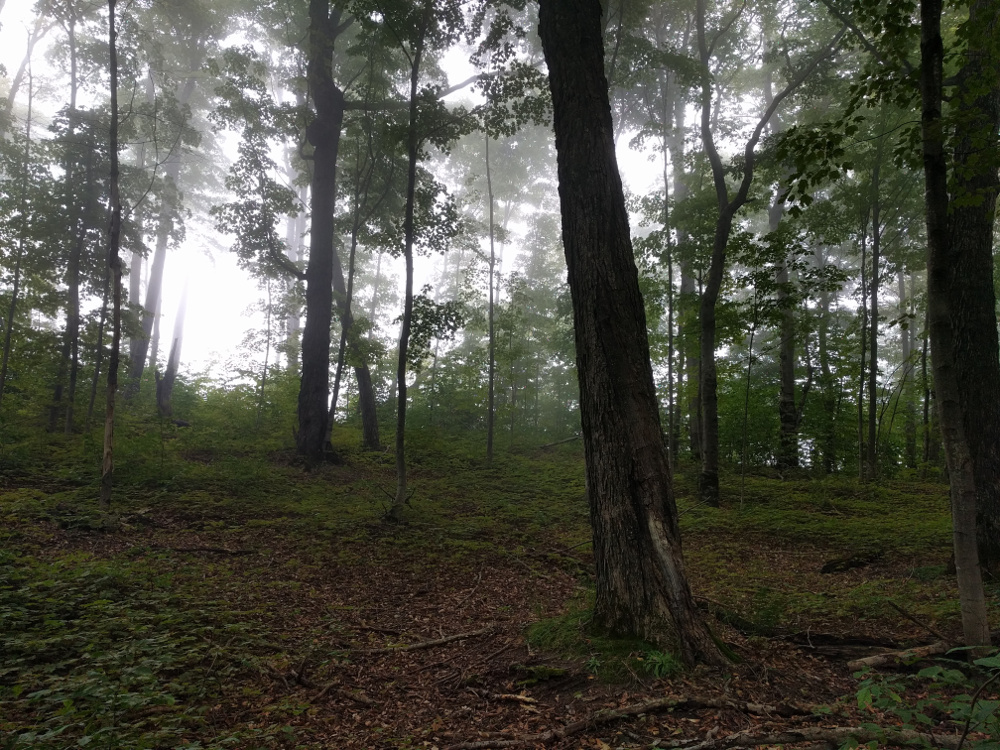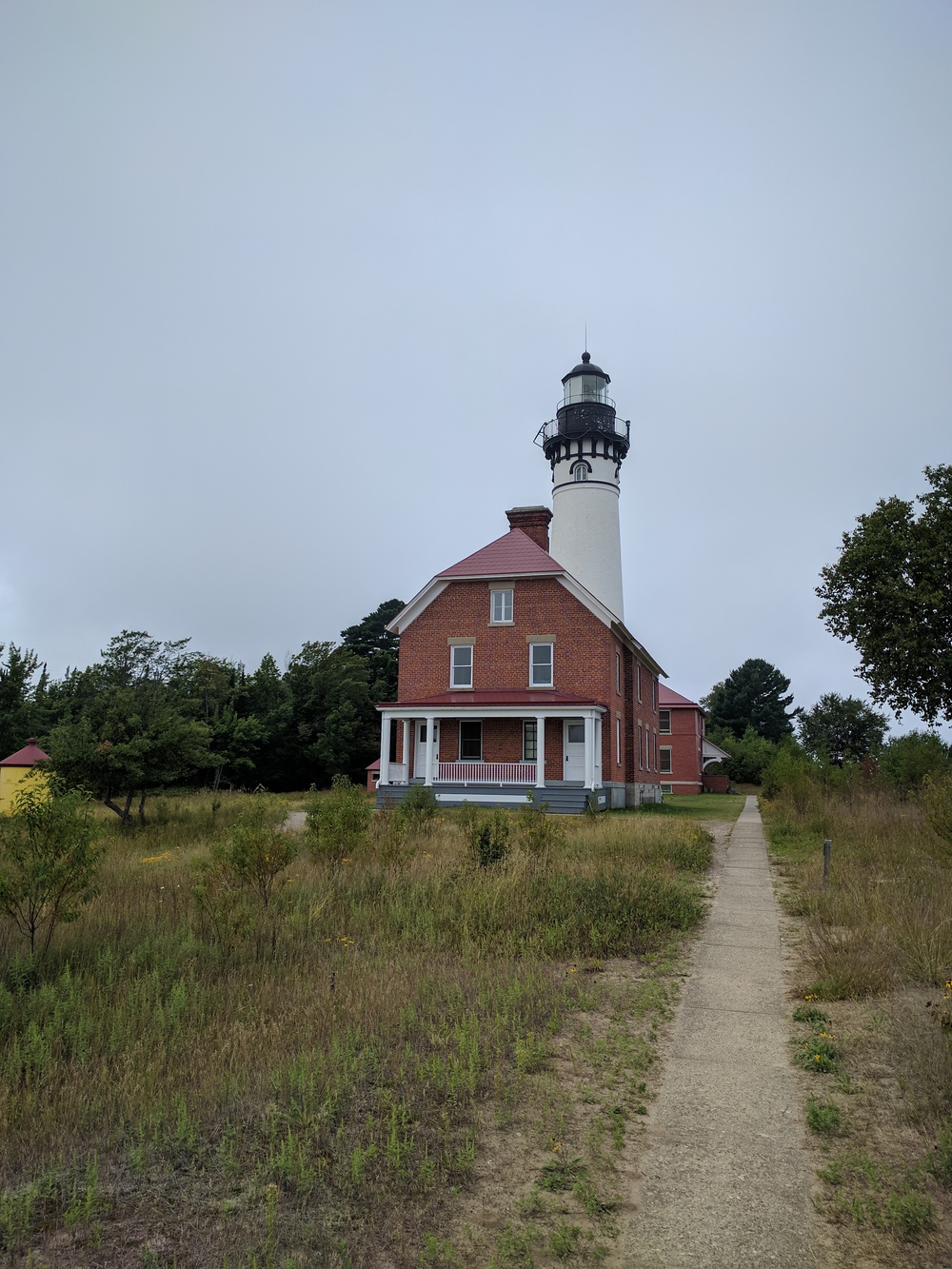 Sunset later that night: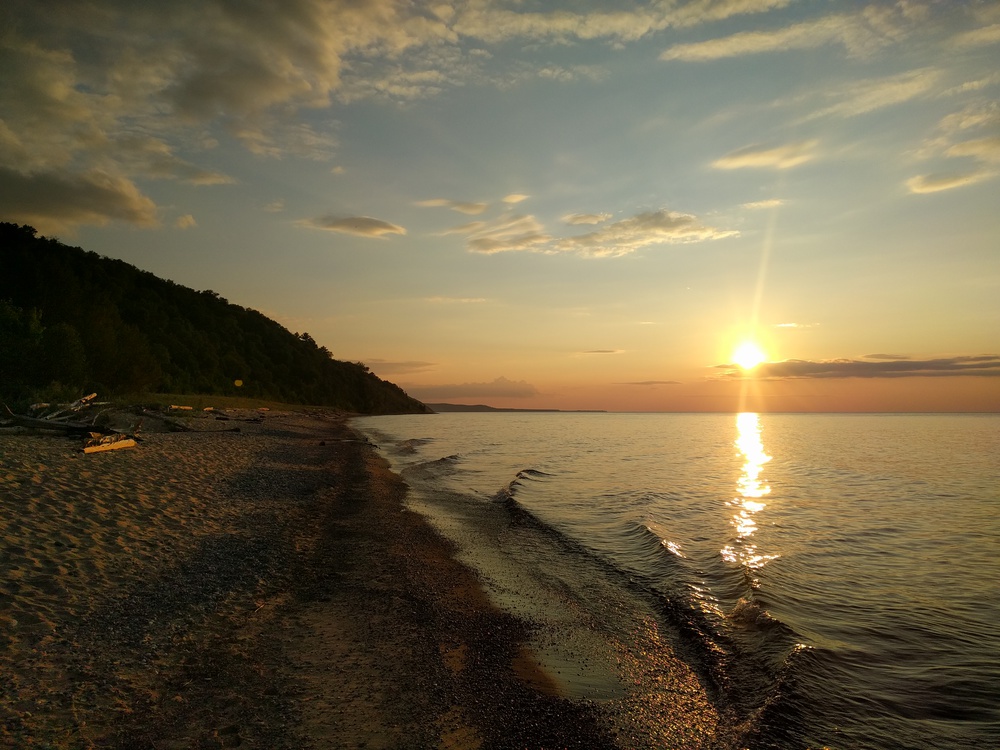 On Wednesday it poured rain for most of the day so we spent the bulk of the day in the van – writing, reading and drawing. The rain finally cleared in the early evening so we took a walk down along the beach and took some pictures of mushrooms with my nice camera.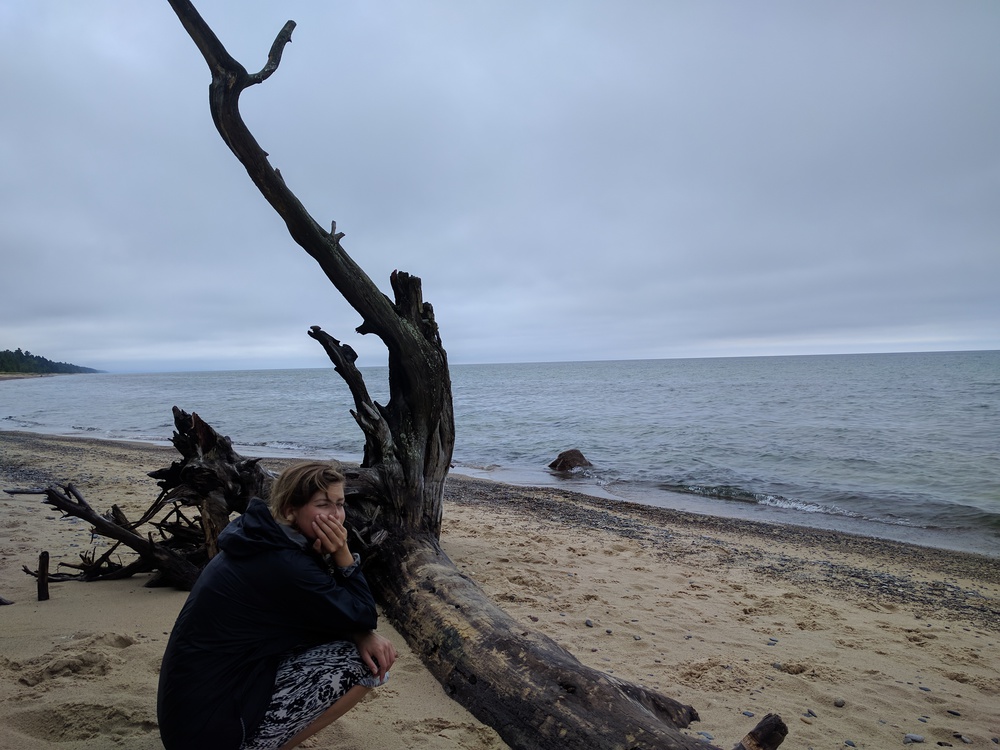 Many mushrooms (Dan took all of these):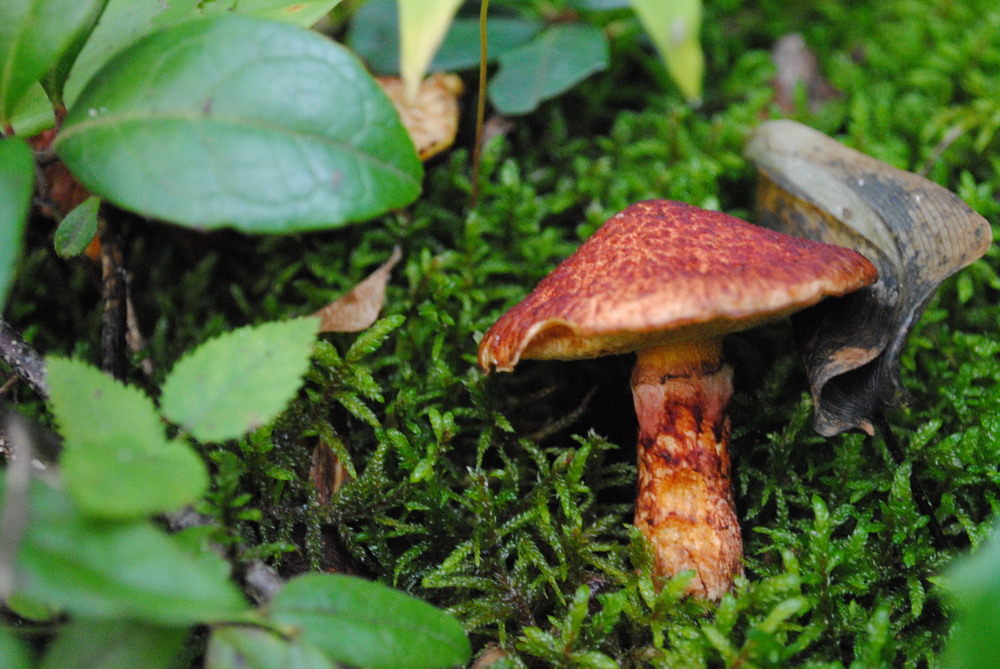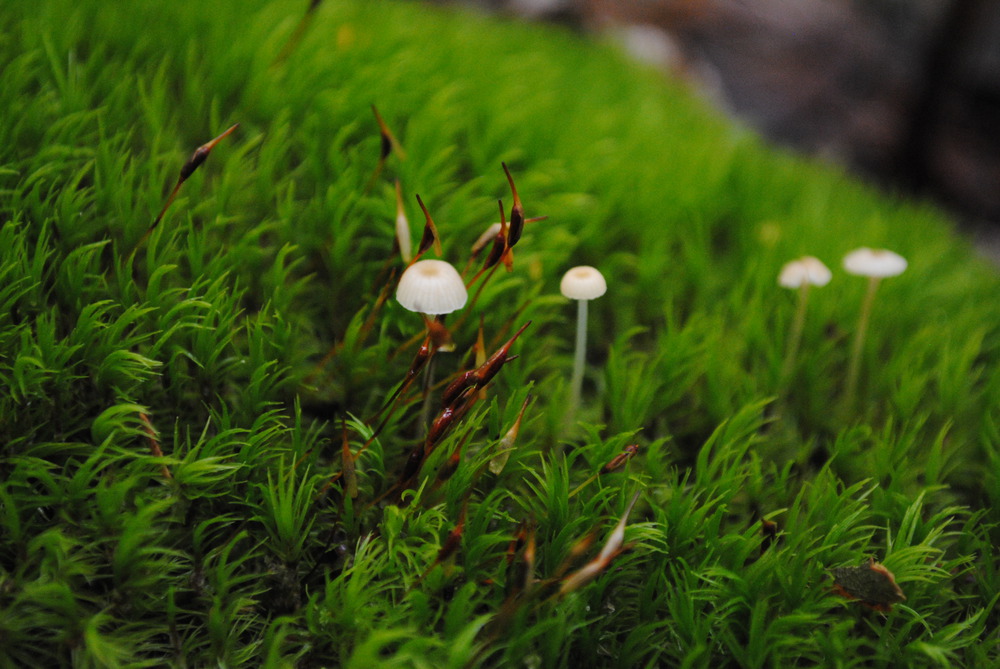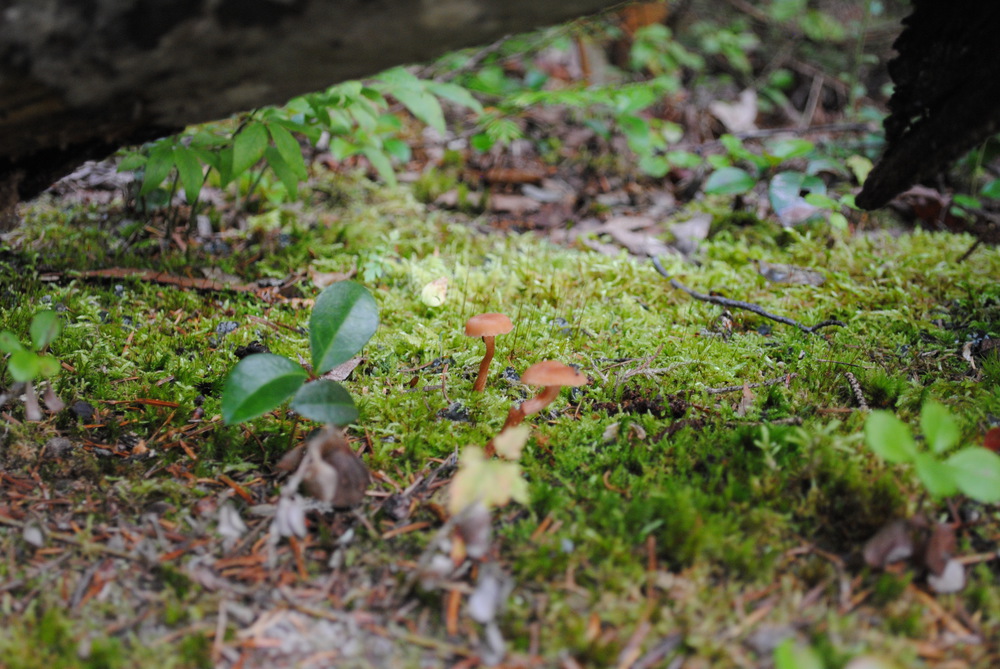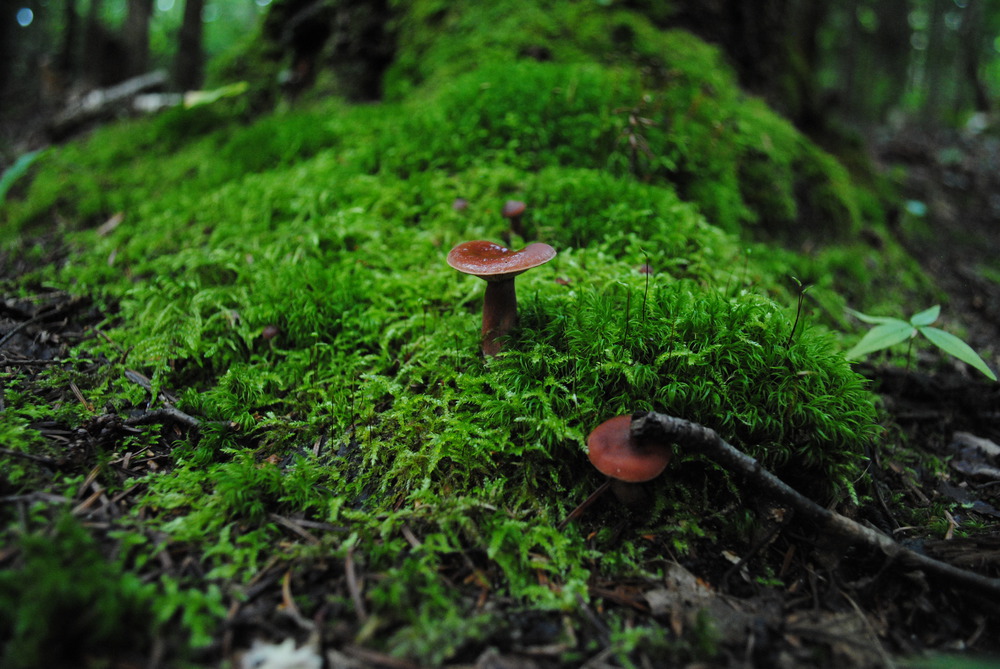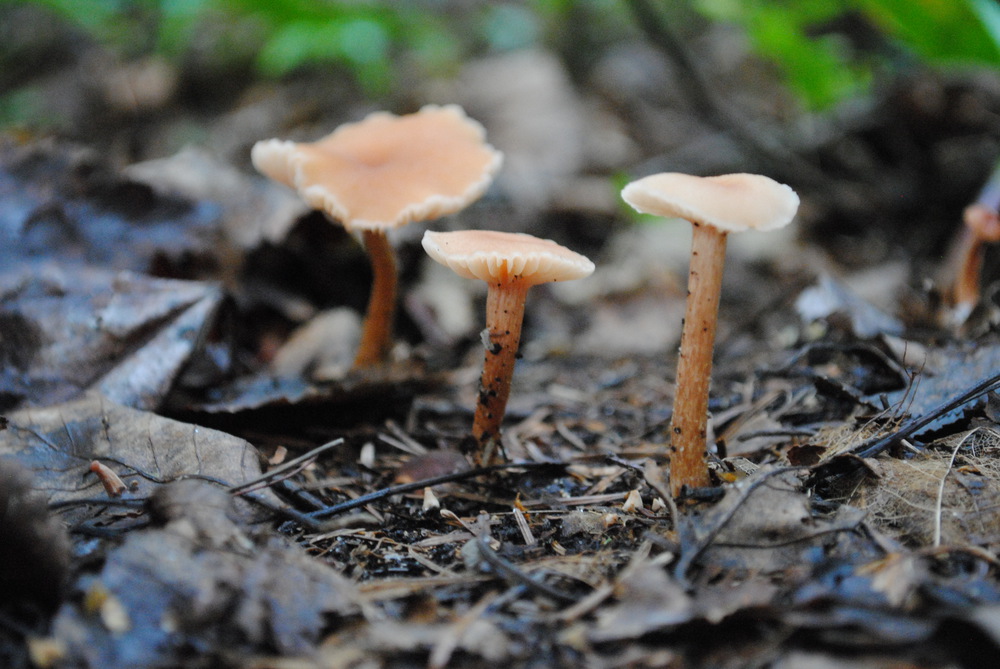 There was a weird sunset that night, almost like a sunset during a wildfire, but it was orange and beautiful.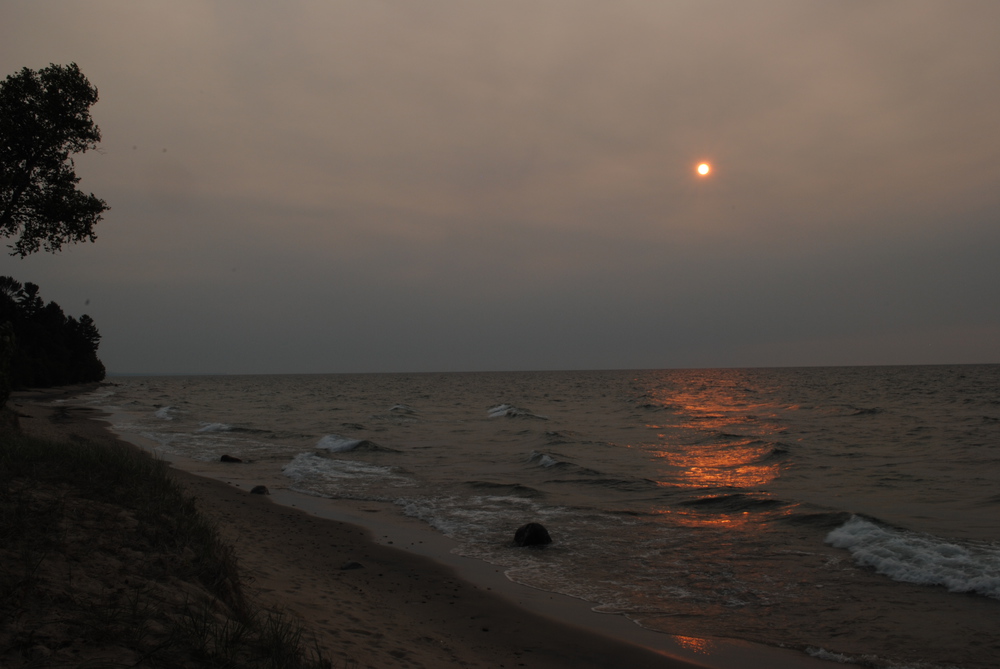 On Thursday we drove further east into Munising to take a boat tour of the Pictured Rocks. Beforehand, we had lunch at a cafe/bookstore, the Falling Rock Cafe: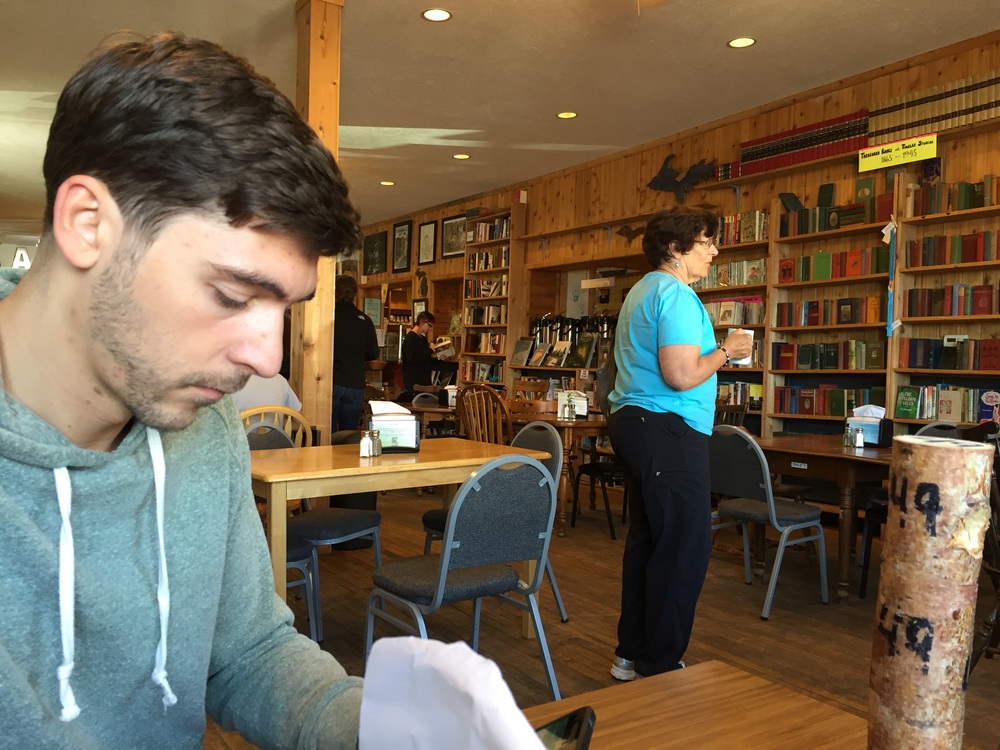 The boat trip was a 2.5 hour ride on what was more or less a small ferry, shuttling us past all kinds of rock formations, cliffs, colored mineral deposits and caves. The name "Pictured Rocks" comes from these mineral deposits, caused by water dripping through the sandstone cliffs and leaving behind residual iron, manganese, calcium, and various other minerals. The water of Lake Superior was a vibrant blue-green.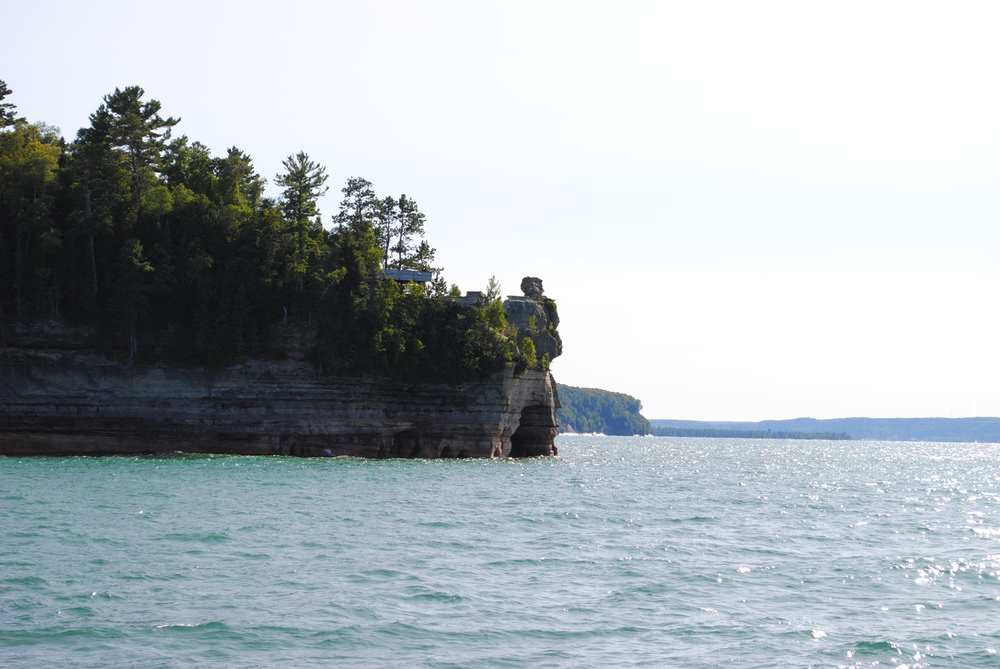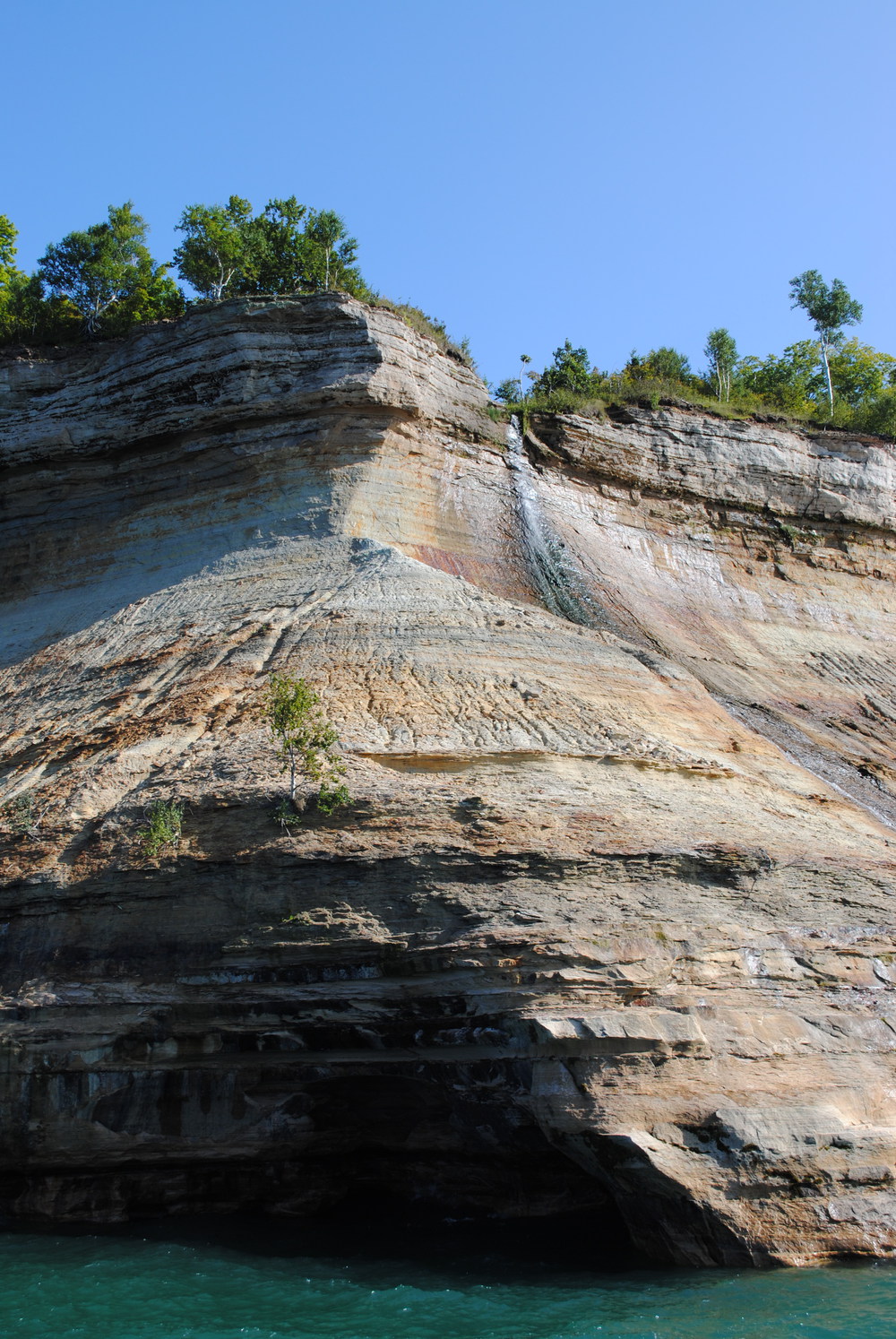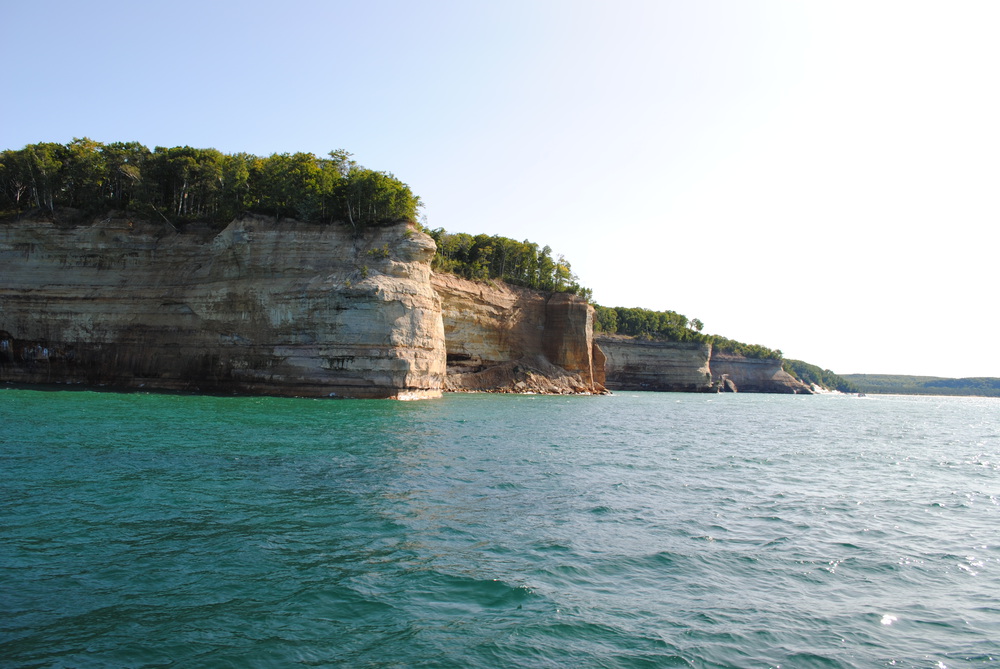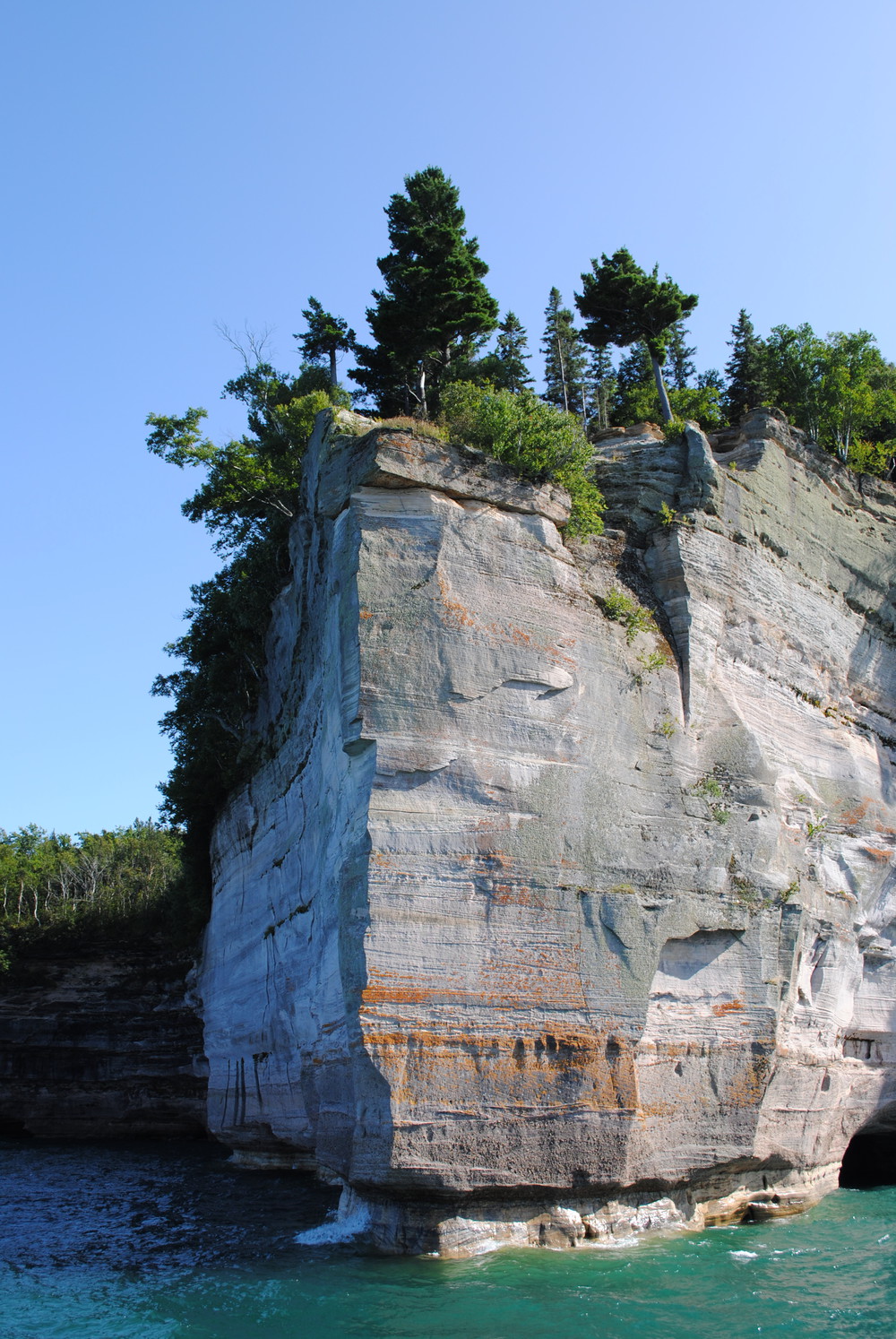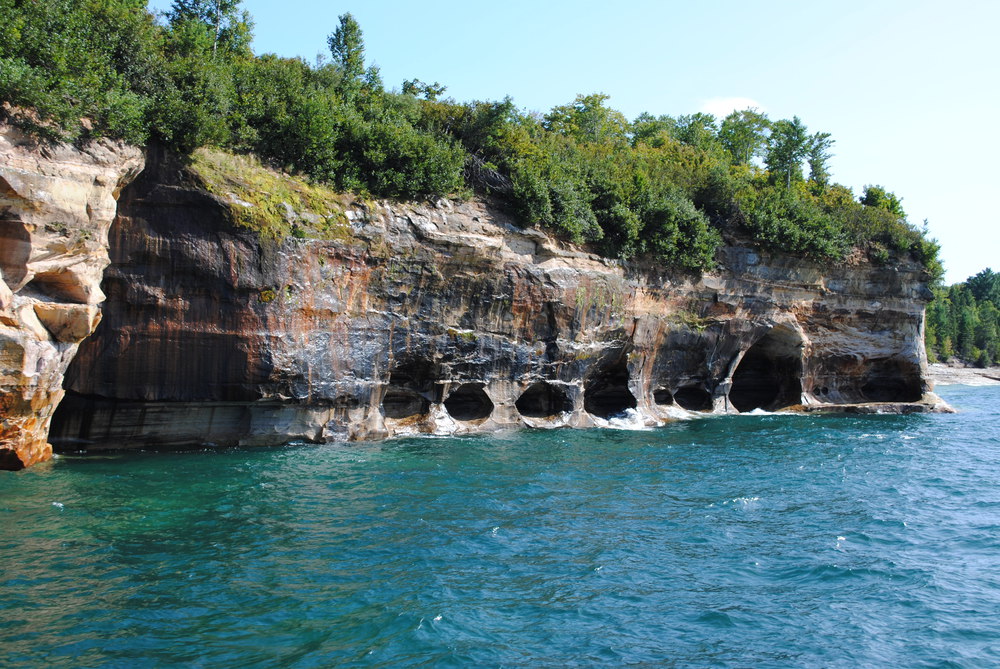 The boat captain informed us that Lake Superior is the coldest, deepest and largest of the Great Lakes. If you drained Lake Superior it would fill an area the size of the lower 48 states 5 feet deep. The coolest thing along the boat tour was a large tree perched on top of a sandstone island, it's roots still attached to the shore 30 feet away.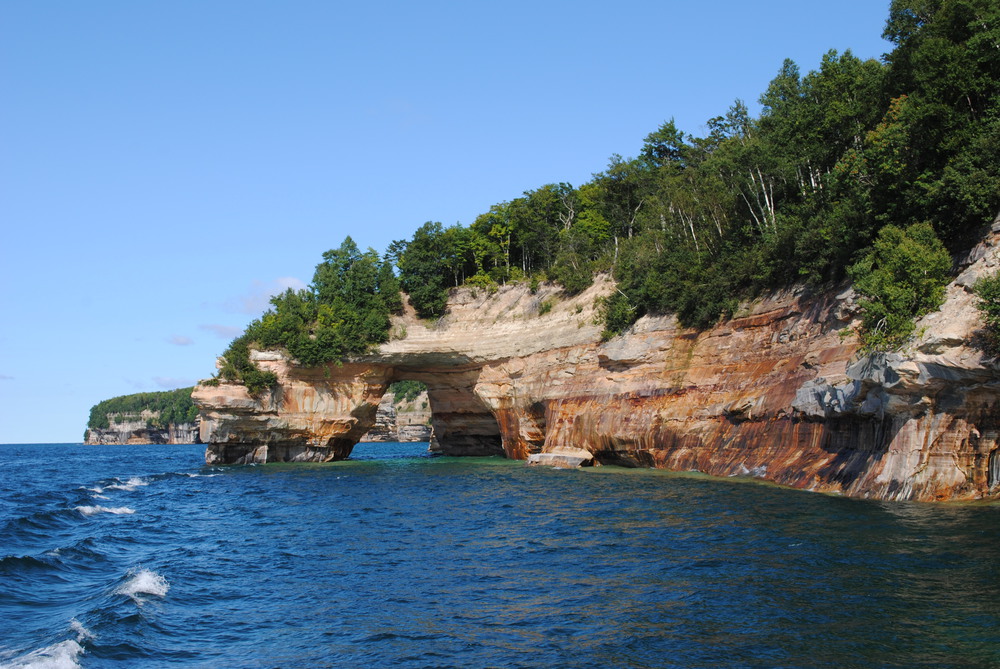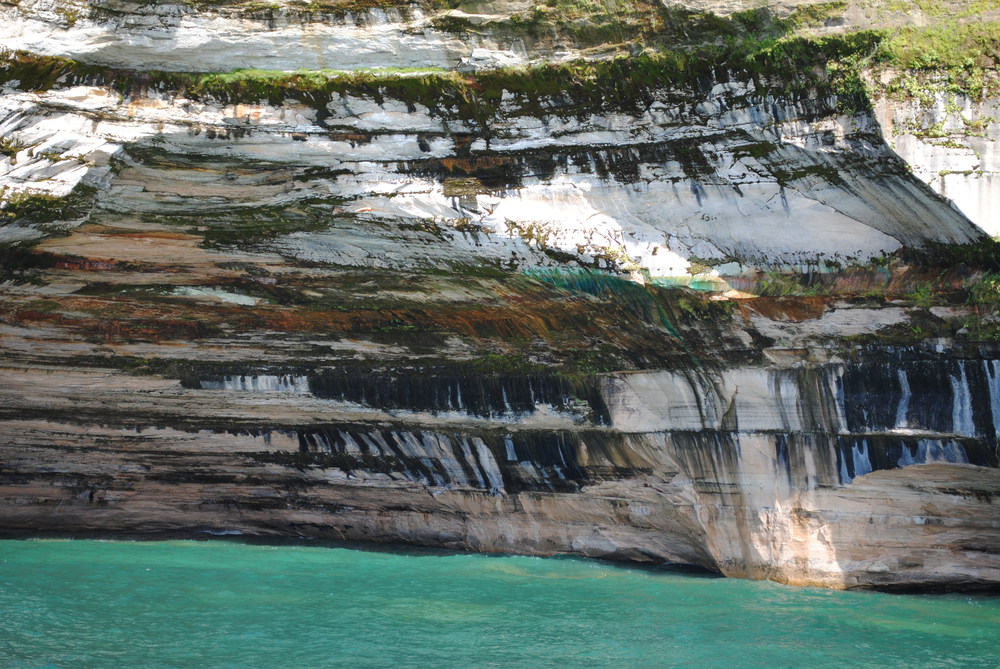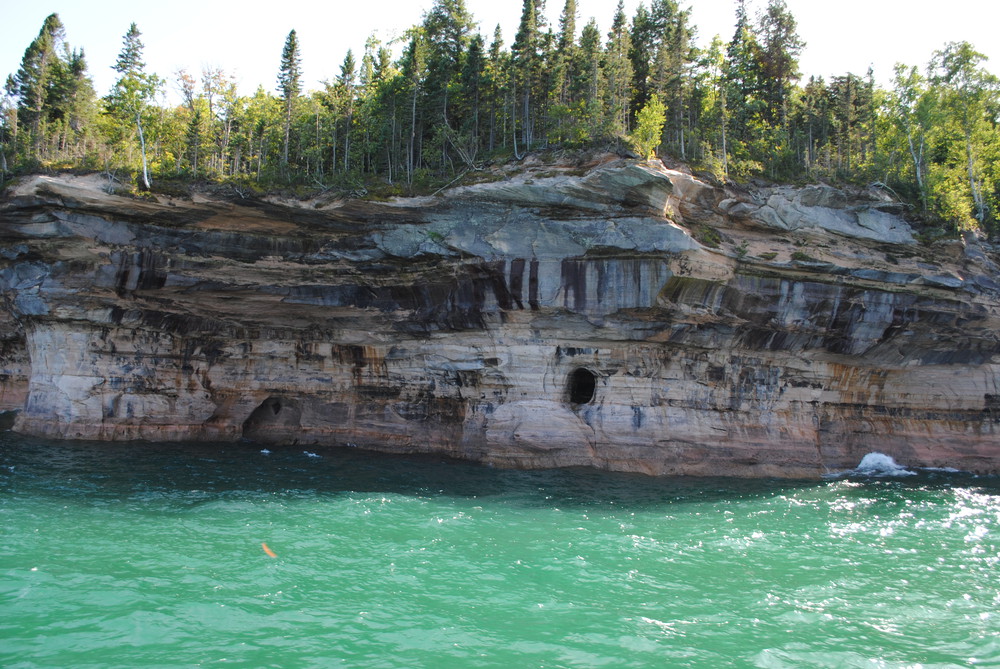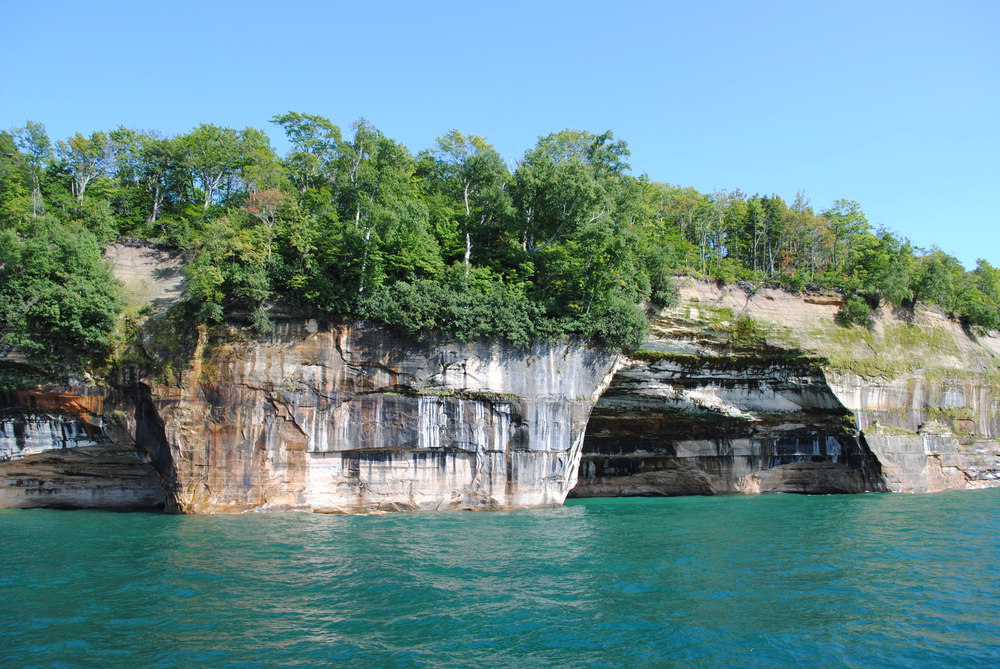 Tree on island: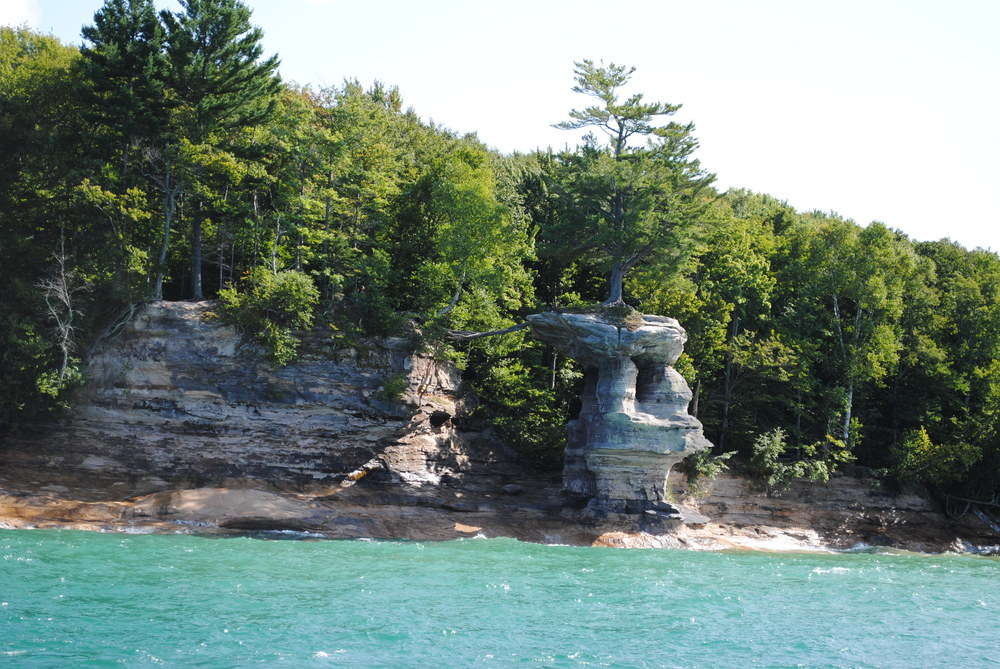 After the tour we went back to our campground for the night and tried to make a fire with some wood left behind by the previous campers. It merely smoldered for an hour. That night we ended up staying up till 3am, taking a couple trips down to the beach in those wee hours in an attempt to see the Northern Lights. Dan had read that oncoming solar winds may allow for Aurora visibility, and we were within the range. We didn't end up seeing it; however, we did get to see moon setting over the lake at 2am and the vast stars and Milky Way at 3am, well outside of the glare of city lights.
On Friday we left the Pictured Rocks, stopping in Alpena, MI along Lake Huron (the east side of Michigan) for a visit to the Austin Brothers Brewery. We slept in a Walmart parking lot that night in Alpena. In the morning we visited a local farmer's market, which was tiny, and walked around the small town a bit to stretch our legs before the drive back to Lansing.

Sky in Alpena and Lake Huron: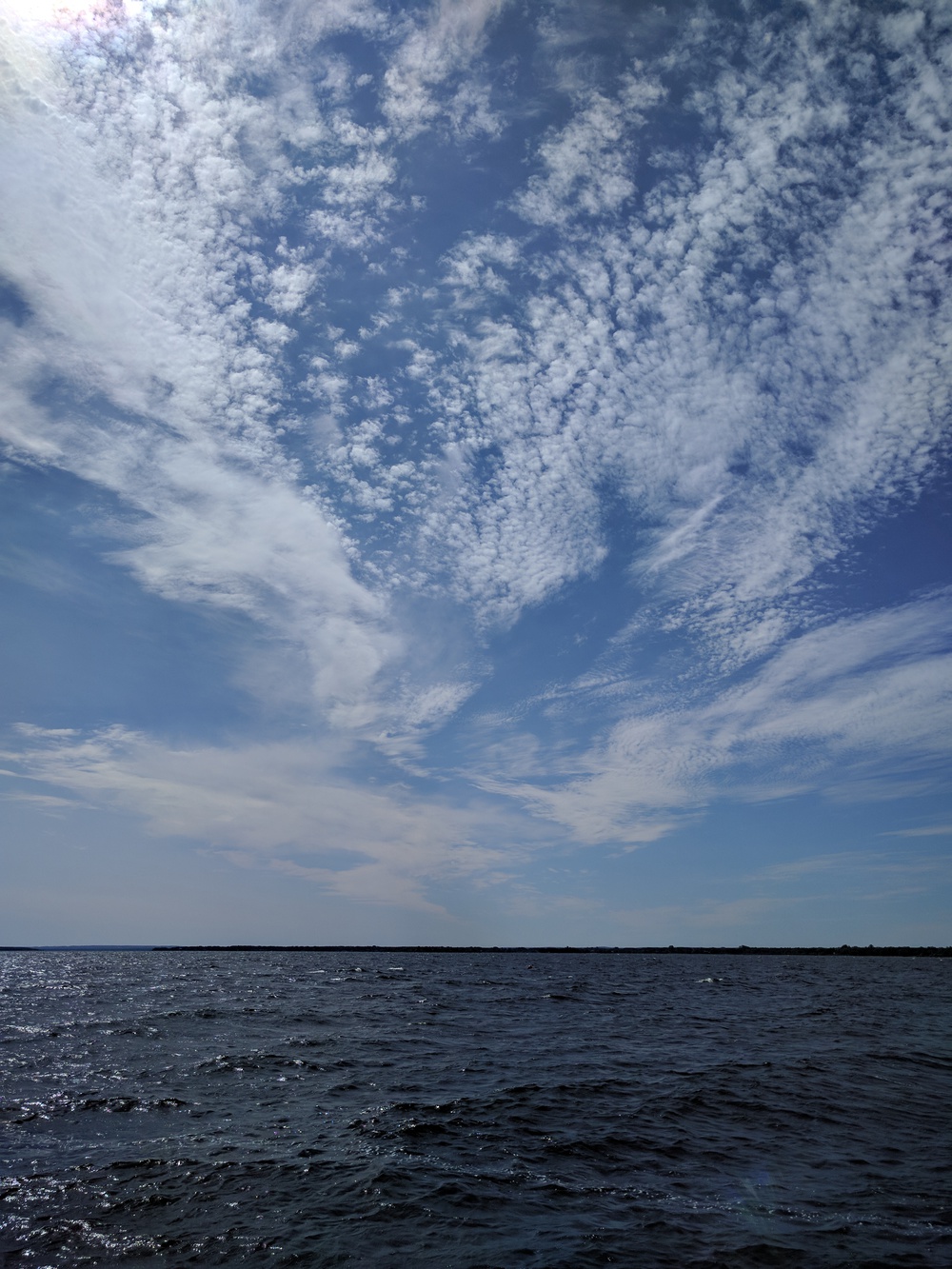 We arrived back in Lansing on Saturday night, made a quick run up the street for $1 pizza and then more or less went to bed. On Sunday we planned out the second half of our trip, getting a rough idea of how we might spend the next couple months after we leave Vermont at the end of September. I took a nice bike ride around Lansing in the warm afternoon.
We are planning on heading out of Lansing on Wednesday morning, spending a couple days in Ohio at Cuyahoga National Park and then through the Finger Lakes in New York state, slated to be in Granville, Vermont on September 12th!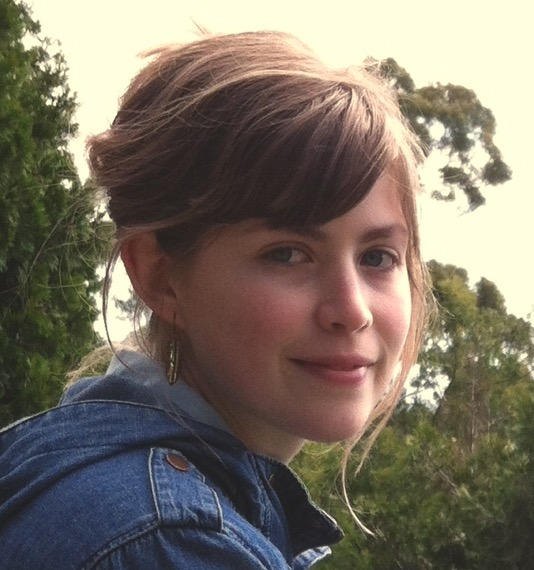 More Posts
Prev: Living in Lansing
---