Interior Shelf/Drawer Project
April 27, 2017
We've spent the last couple of weeks building and installing new storage features in the area that previously held an old TV and VCR.
After briefly entertaining the idea of watching VHS tapes on the road (mostly for nostalgia's sake), we realized we are lucky to live in the age of the Ipad and would rather just have more storage. Thus, we decided to build a shelf/drawer combo. Here is how it looked before our work:


The first step was to widen the opening where the VCR was. The photo below shows Dan examining the enlarged opening after much sawing/electric dremelling/spewing of fiberglass dust - which was inevitable.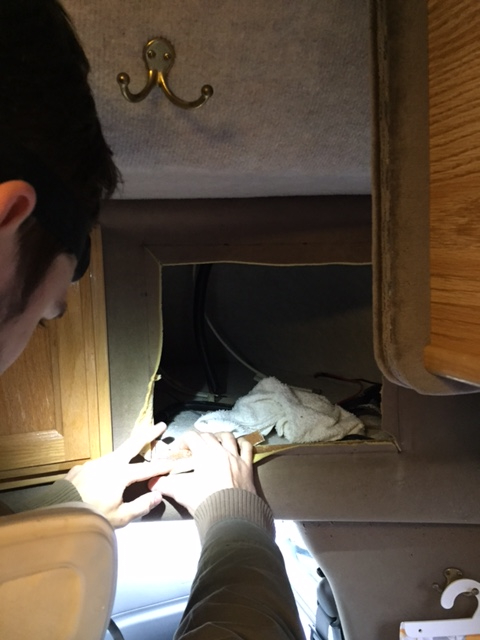 Dan built the boxes out of birch plywood and the drawers from poplar. One of the particular challenges was learning how to make and assemble finger joints to join the sides of the drawers.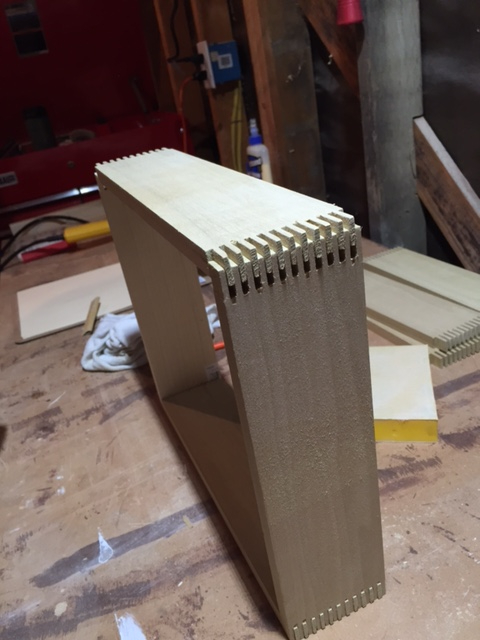 Hammering to join drawer sides: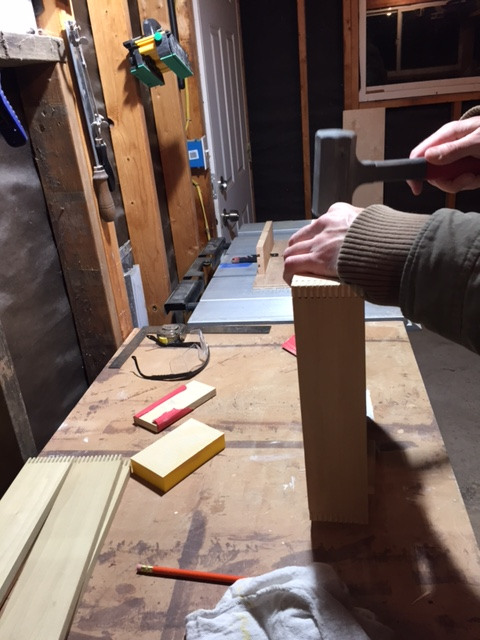 While Dan was building the boxes and drawers, I took on a project to design the drawer fronts, something Dan had done in his old van. I traced my drawing onto the poplar, carved the design with a dremel, and used a propane torch to scorch and bring out contrast.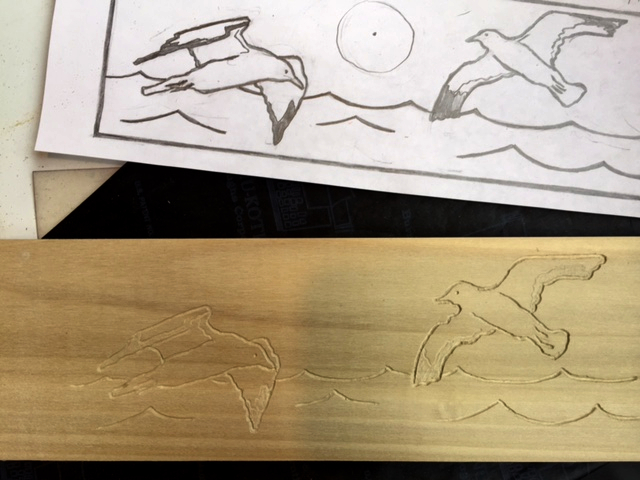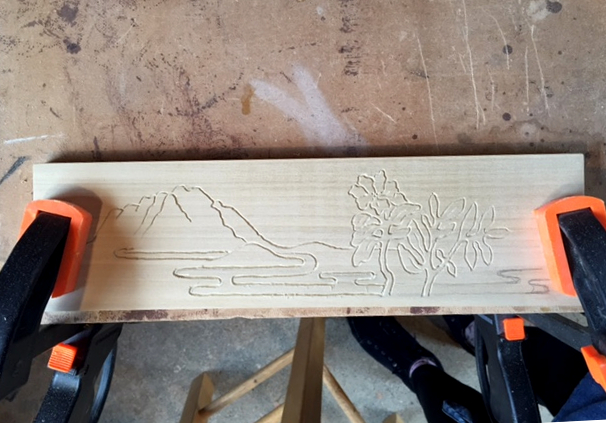 Ready for varnish: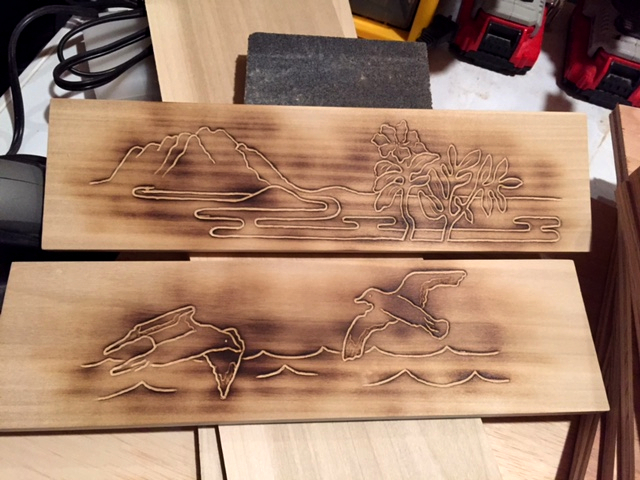 This gave me something to do (besides standing around the shed) while Dan did all the hard work.
After assembling the boxes and drawers (we glued the decorative panels to the front of the drawers), Dan built poplar drawer runners. Here he is heating them and applying beeswax to make them slide more easily: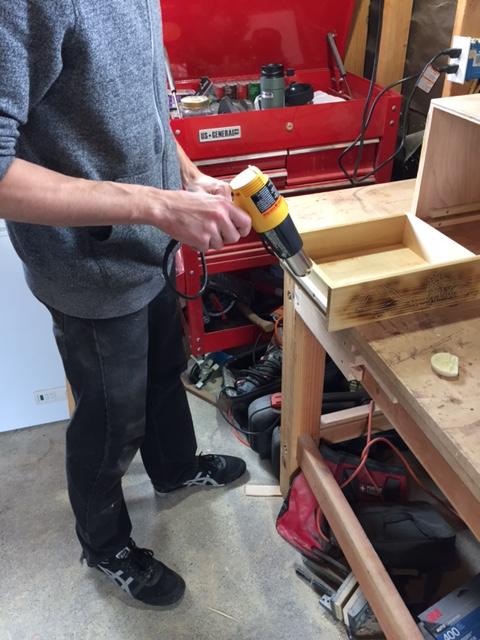 Because the opening for the TV was not perfectly square, we had to glue shims to the outside of one of the boxes so it would sit flush with all sides:

After gluing the trim pieces to the outside and screwing them down (at the risk of splitting the trim), we finally got to install them in the van. Once the boxes were screwed down to the inside of the compartment, Dan installed the shelves above each drawer using pocket holes. It was a definite challenge to be precise in the cramped space.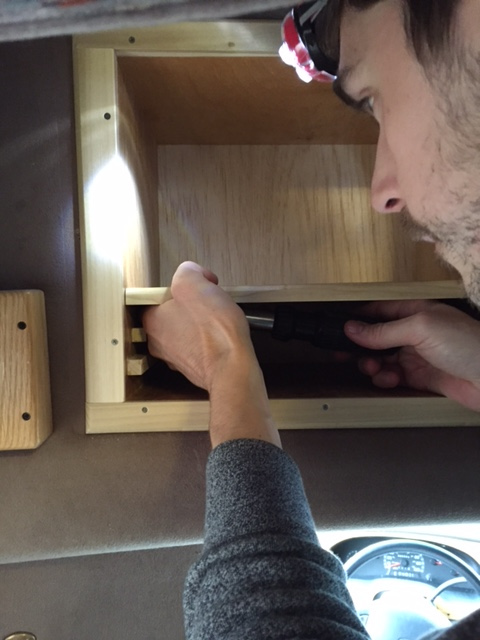 The project ended up being more ambitious and taking more time than we thought (I did not attempt to describe the various setbacks we encountered) but in the end we are both really happy with the way they turned out, and will be much more useful and good-looking than a TV/VCR combo.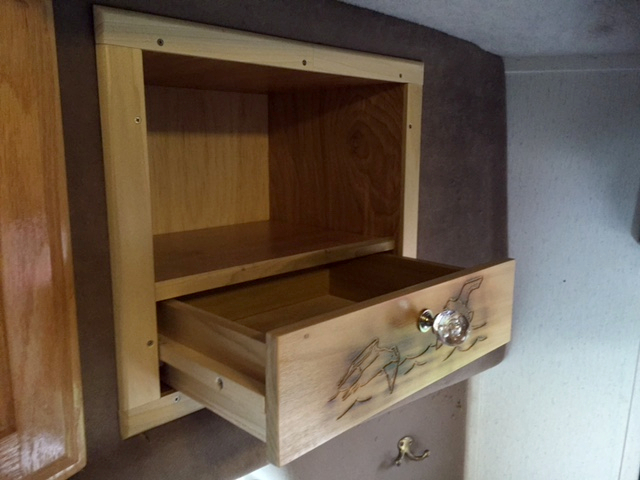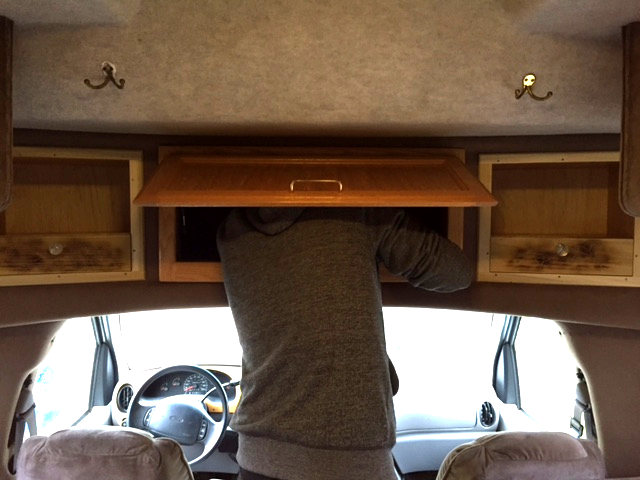 Now that this project is finished we are moving on to more pressing concerns. After installing the new cupboards, Dan noticed some apparent water damage near the back of the van. In addition to this, we are having generator problems. The Chinook is now parked under cover in Maple Valley (at Dan's dad's house). We are hoping to get these problems figured out ASAP because we need to leave :)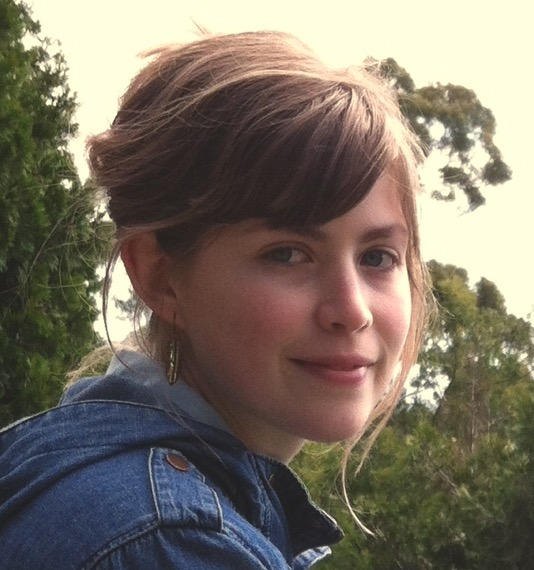 More Posts
Prev: Welcome!
Next: Water Be Gone!
---